REACH YOUR TARGETS USING MARKETING CAMPAIGNS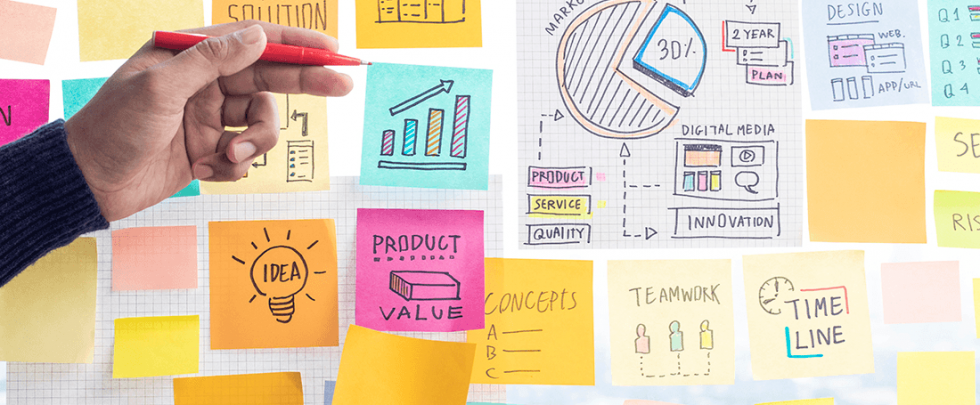 How do you know if your messages are reaching your target audience? Are you able to measure and track them for performance? Determine if they are effective?
Marketing campaigns increase your reach into the marketplace by using multiple touchpoints.
At many professional service firms, a business developer could be the first touchpoint to your market — attending local networking events and conferences and going on the initial sales calls. While they can call on your prospects and clients, they are limited by what they can do in a day. This is where your marketing campaigns can make a difference.
A marketing campaign is a series of communications to your market on a key message.
The key word is "series" since it takes multiple touchpoints for your prospects to recognize your brand, your message and respond to your call-to-action.
Marketing campaigns include many types of activities:
Series of email messages
Surveys
Articles and blogs
Infographics
Video and/or audio messages
Social media posts
Search, banners, retargeting and other digital advertising
Public relations – quotes by reporters
Direct mail
Telemarketing
Podcasts and webcasts
Trade shows and events
Print, radio and other "traditional" types of media
With solid planning, a spash of creativity and a serious focus on measurement, you'll be in a strong position for success.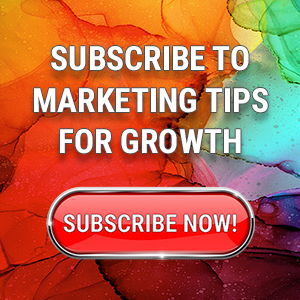 Quantify your goals and set up a plan
Plan your campaigns to meet your revenue goal. It's always best to start with your firm's annual goals and develop your campaigns to meet those numbers. For example, if you're trying to generate 100 new clients, based on your average project size and conversion rate, figure out how many leads you'll need and when you'll need them and design your marketing campaigns to generate those leads throughout the year.
Think about how you'll use your different marketing tools. For example, your sales team may be able to generate 30% of your leads through prospecting; the rest may come from telemarketing, email, direct mail, search marketing, webcasts, trade shows and more. Segment your audience and determine which marketing campaigns are the most effective for each group.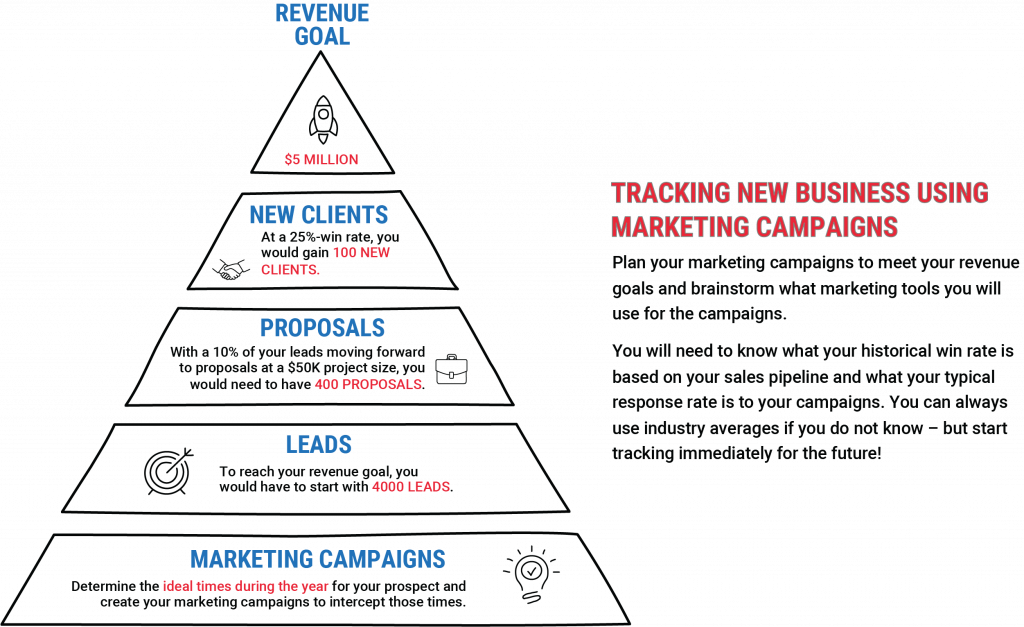 6-KEY STEPS TO A SUCCESSFUL MARKETING CAMPAIGN:
1. Generate campaign ideas and strategies
Identify the business goals for the campaign and determine the firm's services the campaign will highlight.
Marketing campaigns generate and nurture prospects, sell to a specific channel, or market to existing clients.
Evaluate ideas and marketing activities: traditional sales activities, internet marketing, telemarketing, direct mail, email, public relations and more.
2. Target your audience
Who is your campaign going to benefit? With more specific targeting, you can speak more directly to the prospect and raise your response rates in the process. This is where you determine which audience segment each marketing campaign targets. Prospects should receive a different campaign than your clients. Each industry group requires tailoring to the message since they will have different needs for your services.

3. Deliver one or two key messages with a powerful call-to-action
Keep it simple. If you include every detail about your firm and its services, it's easy for prospects to become overwhelmed and move on. Stick to one or two key messages that you want them to remember and include a powerful call-to-action you can track. Think about how your campaign is moving a prospect one step at a time through your awareness and sales funnel.
Be creative — your market is bombarded with messages daily, so your campaign needs to be interesting to grab their attention and engage them.
4. Plan to measure
If you don't measure your marketing campaigns, you can't succeed. You need to know what worked and what didn't work.
Establish how you'll measure each campaign. If there are variables you can't measure, decide how you will account for those results.
Identify how you'll capture the data you'll need – unique phone numbers, unique URLs, etc.
Connect your data to your sales pipeline, so you are able to see true ROI on your campaigns. Anything less is nonsense.
5. Plan your delivery of services
Time to make sure everyone is on board and understands their part. Your fulfillment processes can help or hurt your close rate, so make sure you outline your requirements. For example, if you're running a campaign where prospects request a software demo and your partners don't deliver the demo timely, your prospects may lose interest.
6. Continually test and improve
Even for small campaigns, you can evaluate and test your ad, copy, list or other factors before you spend your entire budget.
Choose a subset of your list for A/B testing of two versions of an ad and choose the best one for rollout. Then you can test a second variable against the winner in the first test.
Keep the testing cycle going and track your results over time. You'll improve your response rates and return on investment.
Determine what was successful in the campaign so you can resuse it for a different segment or industry population at your firm.
---
Give us a call (203) 894-6473 or email us at hello@yourmarketer.com.
May 27, 2020